About this site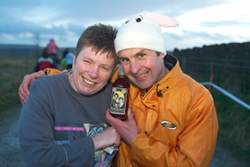 Who are the Woodentops?
We are Dave & Eileen Woodhead from Yorkshire.
Many fellrunners will know of us through the races we organise.
Need to get in touch with us? You can contact us by 'phone, using the number in the FRA Calendar details for our many races ...
Tech stuff about the site .... zzzzzz
The site is maintained by Paul Wood of Ilkley Harriers and Speedyweb as a 'hobby site' using hand-written HTML and PHP, for fun. Paul mainly uses a Mac with Chrome, and Dave gives him grief if it doesn't look right with Internet Explorer on a PC - any other combination you can take pot-luck.
Why red and yellow? The colours were chosen by Dave from one of his favourite cartoon characters Woody Woodpecker.