Yorkshire 2013
18th Junior Yorkshire Fell Championships 2013
Junior U12 (over 10), U14, U16 and U18 Championships held on Saturday 3rd August at Hellifield Gala races, Hellifield, nr Skipton, North Yorkshire
Championship gold, silver and bronze medals to first 3 in each male and female category.
Ages for all categories are as at 1st January 2013.
Championships sponsored by Byram Construction Ltd.
Results. ITV Coronation Street actress Georgia May Foote who plays Katy Armstrong brought the sunshine to this year's gala and was a true celebrity always willing to pose for photographs, sign autographs, race numbers and having a chat with everyone. The stars of the fell racing were Annabel Mason breaking Scary Mary Wilkinson's 5 year old course record by 28 seconds to finish fourth overall in the senior race behind race winner James Hall who also won the MU18 Yorkshire title. Annabel also won the FU18 Yorks title and once again left dad John in her wake, although dad did win the V40 prize. The only other record breaker was new Yorkshire GU12 champion Poppy Cooke from Leeds City who broke Sarah Pickering's record by a single second. Congratulations to all medallists and champions on what was a great day's racing. The village gala added to the whole day out with competitors also competing in egg and spoon, wheel barrow, three legged, piggy back and sprint racing, before an egg throwing challenge. To end the grand day out it was Wayne Byram's honour to present the Yorkshire awards and chocolate to the happy winners before organiser Steve Moore presented the race awards. Finally the age old tradition of the chocolate throw out began, a sight to behold for anyone who hasn't seen it before and a grand way to end the day.
Photos
---
Yorkshire Senior & U23 Championships 2013
Victoria Wilkinson of Bingley Harriers won the Ladies Yorkshire Championship trophy and gold medal for only the second time at the steep and grassy Buckden Pike race, she was limping badly and obviously in a great deal of pain as she crossed the finish line. It was on the final steep descent towards the beck where Vic went over on her ankle after running away from the rest of the field. An x-ray later revealed that no bones were in fact broken, we wish her a speedy recovery because Vic is leading the English championship which the Buckden Pike was a counter in and she had won the Fairfield race another counter in May.
Helen Fines of Calder Valley took the silver medal and last years champion Helen Berry of Holmfirth the bronze medal.
Helen Elmore led Dark Peak Fell Runners to team gold with backing from Bob Graham record holder Nicky Spinks and Pippa Wilkie, both Nicky and Pippa helped the team win last year.
FU18 champion back in 2010 Caroline Lambert of Wetherby Runners won the FU23 championship and the Sarah Rowell Trophy, following in the footsteps of Victoria Wilkinson who won the FU23 title in 1997 and 1998, it's a real pity no more FU23's took part in the race.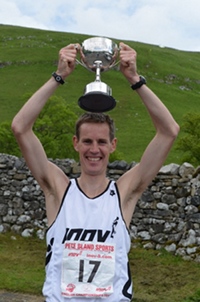 Rob Jebb won, but surpisingly like Vic has only won the championship trophy once before in its 36 year history which was in the 3 Peaks in 2007, Rob has won two bronze medals previous in 2003 at Pen Y Ghent and last year at the 3 Peaks. Tom Addison of Helm Hill won the silver and Oli Johnson just beat Max Wharton and Ian Holmes by seconds to collect the bronze medal. Recent Ennerdale winner Oli also led home Dark Peak Fell Runners to team gold with backup from Rob Little and Tom Brunt. Max Wharton of Calder Valley Fell Runners the U14 champion in 2010 and still only 16 years old won the new U23 Alistair Brownlee Trophy and gold medal, silver went to last years winner Joe Crossfield and the bronze to Luke Maude, who last won a medal back in 2005 when Luke won the U16 silver behind Jonny Brownlee.
Many thanks to Martyn Speight of The Wharfedale Clinic and Mike Ayers of Precision Pest Management for sponsoring the 36th Yorkshire championships.
We have lots of photos!
Right, the new U23 Yorkshire Championship Trophy donated by Olympic Champion Alistair Brownlee.
---
Inter-Counties Championships, a Golden Yorkshire Day Out
17 gold, 10 silver and 4 bronze medals made the 16th UKA Fell Inter Counties on home ground at Settle Hills a grand golden day out for team Yorkshire. This medal haul included three individual champions in BU18 Max Wharton, GU18 Annabel Mason and in the senior ladies Emma Clayton, these athletes also led these teams to gold medals. Read our full report.