Brownlee Olympic Gold Run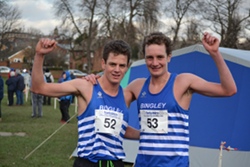 What were you doing on Tuesday 7th August?
Well, the Brownlee brothers were competing in the Olympic Triathlon in London. If you weren't going to London to cheer on the boys, the Brownlee Gold Run event was the next best thing, a short race on Penistone then watching the events of the triathlon unfold on the big screen in the Old Sun Hotel whooping and hollering as Ali and Jonny crossed the line to claim Olympic Gold and Bronze!
Tim Done's photos: Gold Run, and Posing with an Olympic Torch
Dave Woodhead's photos, U10 race
See it on YouTube
Read the chat on the FRA Forums
One of many post-race TV news clips here
Are you a Facebook user? Follow the guys on Facebook The-Brownlee-Brothers
Read the Feb 2007 Fellrunner magazine article The world at his feet
---
Details (archive)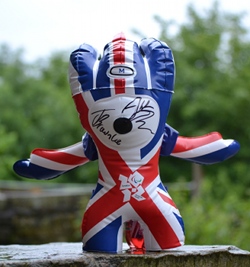 ARRIVE EARLY to get your genuine, limited edition, signed race number!
10.15am start, registration opens at the Old Sun Hotel, Howarth at 9am
2.7km/54m (1.7 miles), same course as the Bunny Relay lap, see Google Map
£2 EOD only, start 5 minutes from registration
Records - Ben Mounsey 9:12, Katie Walshaw 10:48
Minimum age 10 years on 1 January 2012
½ mile race for U10's and U8's (over 6 on the day), entry £1
All the prizes will be goodies signed by the superstars, Ali and Jonny. To add to the fun everyone's race entry form will be put in to a special chest, then the lucky prize winners will get drawn and be able to choose from the terrific array of goodies (see some of the goodies here)
All entrants will receive a limited edition Brownlee Gold Run certificate and a commemorative race number
Woodentops traditional chocolate throw-out
After all the fun and games everyone can settle down and watch the Triathlon, which starts at 11.30am, in the comfort and warmth of the Old Sun Hotel, the pub is kindly putting on free soup & roll, and sandwiches, so let's get behind the lads and cheer them all the way to the finish line. It's going to be a day to remember for all the right reasons.
And don't worry folks the Brownlee boys are supportive of the idea and Ali said, 'what a great idea, we are fine with it. You think people will turn up on a Tuesday morning? Would be embarrassing if no one showed, ha, ha.'